Captains Cove Resort - Waterfront Apartment
Welcome to Captains Cove Waterfront Apartments, an idyllic retreat situated on the tranquil Paynesville canals, gracing the shores of the Gippsland Lakes. This haven boasts an enticing array of offerings, from an indoor heated pool, tennis court, and basketball hoop to private jetties and an array of water-based activities.
The View – Captains Cove Waterfront
Experience panoramic waterfront views at The View, our luxury accommodation located in Captains Cove Resort. With private jetty access, indoor pool, and proximity to local attractions, it's an ideal getaway.
Captains Cove Luxury Apartments
Captains Cove Ground Floor Luxury Apartments
Enjoy luxury living at Captains Cove with our ground floor apartments, featuring air-conditioned interiors, a private pool, and free WiFi. Nestled close to Slip Bight Marina, we offer the perfect setting for your romantic getaway.
Captains Cove Luxury Apartments
Captains Cove 1st Floor Spa Luxury Apartments
Unwind at our 1st floor spa apartments offering air-conditioned rooms, private pool, free WiFi, and a terrace. Set in Paynesville, our apartments promise a rejuvenating stay close to the Slip Bight Marina.
Captains Edge - Pet Friendly Accommodation
Experience the perfect blend of comfort and luxury at Captains Edge, ideal for families, groups, or corporate retreats. Enjoy the modern open plan living, spacious rooms, and the private outdoor entertainment area. Your pets are welcome too!
Captains Cove Luxury Apartments
Captains Cove All Accessible Luxury Apartment
Enjoy our accessible luxury apartment designed with a shared pool, air-conditioned interiors, and free WiFi. Conveniently located near Slip Bight Marina, we offer an inclusive stay for all guests, including NDIS participants.
Search Accommodation in Paynesville
Find the right accommodations in Gippsland to ensure a great holiday for you and your family.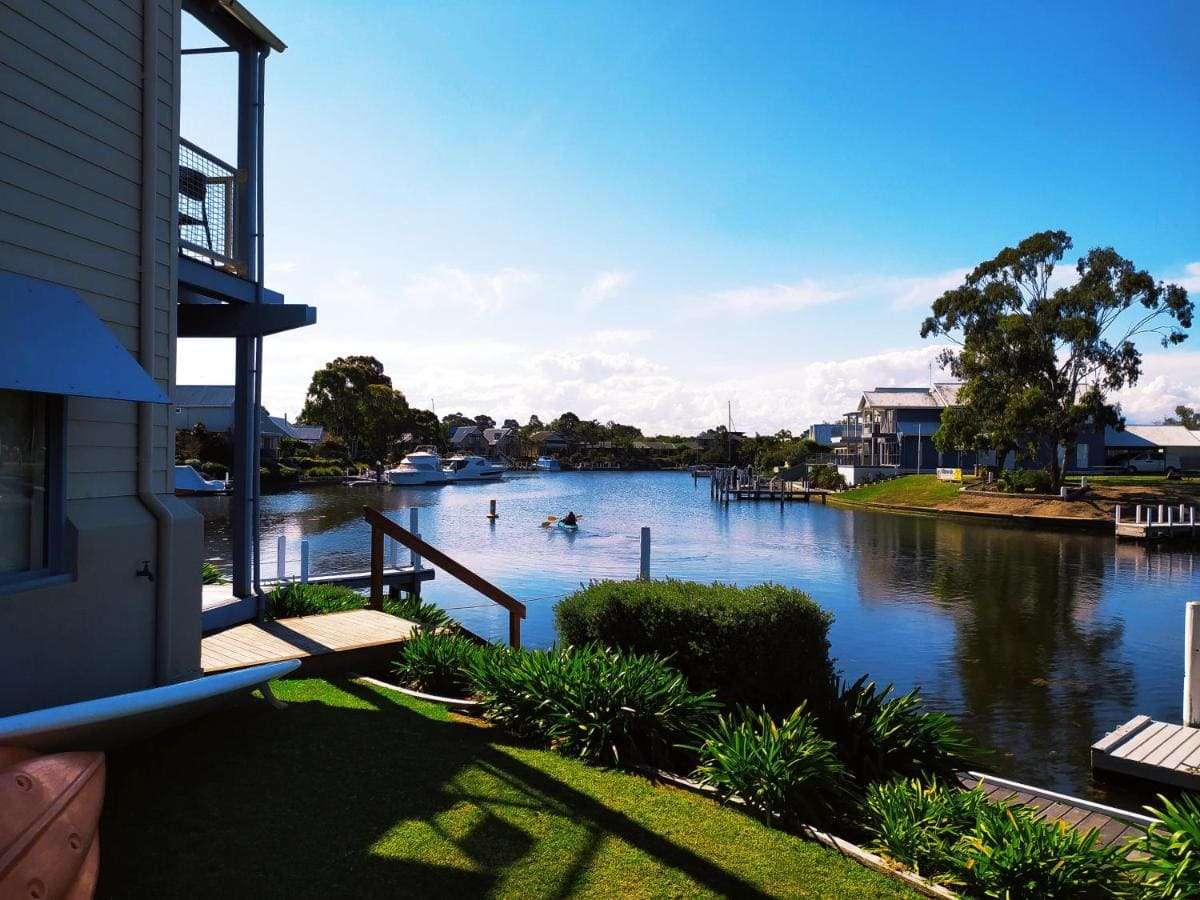 We are a family operated business popular for providing accommodation in Paynesville, located in the stunning Gippsland Lakes of Paynesville, Victoria.

Based in East Gippsland, Paynesville is a popular holiday destination for visitors travelling close, far or abroad.
Luxury Accommodation in Paynesville
At Gippsland Holidays, we believe in providing more than just a place to stay in Paynesville. We offer a luxurious escape, where you can unwind in style. Our affordable luxury accommodation in Paynesville transports you to a world of relaxation, where every detail is designed with your comfort in mind.
While there are many accommodation options in Paynesville, none can match the unique experience offered by Gippsland Holidays. Our properties are more than just places to stay in Paynesville; they are your home away from home. With our top-notch facilities and personalised service, we set the standard for accommodation in Paynesville, Victoria, Australia.
We offer pet-friendly accommodation in Paynesville at our Captains Edge property, located just a stone's throw away from Captains Cove Luxury Apartments. Enjoy a comfortable stay with your furry friends.
For those who love the water, our Captains Cove Waterfront property offers Paynesville accommodation with a private jetty. Just a few steps from your front door, you can enjoy fishing or simply relax by the water. This waterfront accommodation in Paynesville is a boater's dream come true.
Best Accommodation in Paynesville
Whether you're staying in our Captains Cove apartments or our pet-friendly Captains Edge property, you can enjoy luxury at an affordable price.
We take pride in serving our guests with the best experience. Read what they say.
It was the beat place in gipplsland to stay!!! Must must recommended.
Marina Cunningham
2023-07-12
We hired bikes last minute for the day, one day before, in July so low season. Our email inquiry to the hosts was answered the same day. When we picked up the bikes, Will met us and set us up with bikes and helmets and made some last minute adjustments to the bikes for us. Will was very friendly and easy to chat with and his service is amazing! Highly recommended for bike or kayak rentals in Paynesville.
Jeanette Miller
2023-06-30
We myself, my sister and my elderly mum , had an amazing stay at Captains Cove ground floor luxury apartments.. they were beautifully equipped with everything we needed. conveniently close to eeverything. . Communication was great and prompt. check in and out was easy. Beds were super comfy. We definitely will be back .. Thanks so much.
Great accommodation in great location. The apartment was well maintained and extremely clean. Amy and Will were fantastic hosts. We can't wait to return for another stay.
William Nguyen
2023-06-25
Beautiful apartment, clean and spacious. Hosts were super helpful and friendly! Definitely planning to staying here on our next visit to the Gippsland region
Had a great experience & really enjoyed kayaking around the canals and Paynesville shoreline. Your team looked after us and made it easy for us from start to finish.
sienna thornton
2023-06-19
Was modern, cosy and very well run
Angela Freeman
2023-06-18
Absolutely beautiful, we loved our stay it was perfect in every way
The place was wonderful! Conveniently located to the local shops, and only a 15 min drive to Bairnsdale. Great facilities in the complex and the apartment itself was so modern and clean. We joined our stay thoroughly. Highly recommend if you are looking to stay in the area.
Vishnu Swaroop
2023-04-27
Our host Will, was amazing in assisting us during the whole stay. He was always responsive and catered to all our requests personally. The place was very well kept and had all the amenities required for a comfortable stay. Will highly recommend this place and would come back again.
Things to do & attractions in Paynesville
There's more to Paynesville than just beautiful accommodation. From fishing to golfing, boating to koala spotting on Raymond Island, Paynesville is a treasure trove of activities. With Gippsland Holidays, you're not just booking accommodation in Paynesville, Victoria, Australia; you're embarking on an unforgettable adventure.
FAQs About Holiday Accommodation in Paynesville, VIC
Read frequently asked questions about staying in Paynesville; Let us know if you have any questions here.
Gippsland Holidays is located at 18A Mitchell St, Paynesville VIC 3880, Australia.